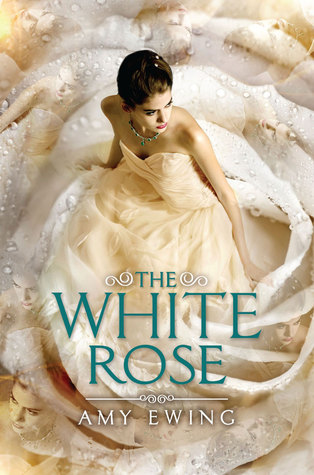 The White Rose by Amy Ewing
Publisher: Harper Teen
Publication Date: October 6, 2015
Source: Advanced Reviewer Copy provided by publisher
Violet is on the run. After the Duchess of the Lake catches Violet with Ash, the hired companion at the Palace of the Lake, Violet has no choice but to escape the Jewel or face certain death. So along with Ash and her best friend, Raven, Violet runs away from her unbearable life of servitude.
But no one said leaving the Jewel would be easy. As they make their way through the circles of the Lone City, Regimentals track their every move, and the trio barely manages to make it out unscathed and into the safe haven they were promised—a mysterious house in the Farm.
But there's a rebellion brewing, and Violet has found herself in the middle of it. Alongside a new ally, Violet discovers her Auguries are much more powerful than she ever imagined. But is she strong enough to rise up against the Jewel and everything she has ever known?
The White Rose is a raw, captivating sequel to The Jewel that fans won't be able to put down until the final shocking moments.
Review
Rating: 5 stars
I would like to thank the publisher for providing me with an ARC of The White Rose for review.
Amy Ewing really out did herself with this spectacular sequel. The White Rose is just as fantastic as The Jewel. Amy steps up her game in this book to keep the this fantastic world going, with so much more magic and heart stopping suspense as to what is going to happen next. In the White Rose I connected even more to the characters and had so much empathy for them. Amy makes you care for so many of them and in ways you didn't see coming.
The Jewel's ending left us on the edge of our seat as to what was going to happen next. I will not ruin either books for those who have not read the series. The Jewel was more dystopian with some magic but this book the magic becomes much more prevalent.
The world is full of heartbreak and abuse of those who are not royals. Selling your children to carry others babies or to have sex with the wealthy. All for money and a better life. The world and struggle with morals in these books are just so emotional. I love how raw that at times could feel.
The ending of this book left me dying for next one, just like the first did. I cannot wait for the final installment in this series. I am giving this book 5 out of 5 stars. This series has some mature themes and I would definitely recommend it for an older teen.
Get Your Copy Now
  Amazon ~ Barnes & Noble ~ Book Depository
About this author
Amy Ewing is the young adult author of The Jewel, the first in a trilogy from HarperTeen, coming out September 2014.
She grew up in a small town outside Boston, where her librarian mother instilled a deep love of reading at a young age. Amy moved to New York City in 2000 to study theater at New York University. Unfortunately, her acting career didn't quite pan out. She worked in restaurants, as an administrative assistant, a nanny, and a sales representative for a wine distributor before the lack of creativity in her life drove her to begin writing.
Amy received her MFA in Creative Writing for Children from The New School, where she was lucky enough to meet a fabulous community of YA writers who keep her sane on a daily basis. She lives in Harlem, where she spends her days writing, eating cheese, and occasionally binge watching The Vampire Diaries.