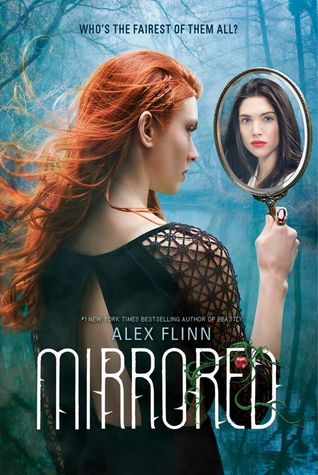 Mirrored by Alex Flinn

Kendra Chronicles, #3
Publisher: Harper Teen
Publication Date: September 15, 2015
Rating: 5 stars
Source: Advanced Reviewer Copy provided by
publisher
A modern,
multi-generational tale of Kendra, the witch from "Snow White," who
trains Violet, an ugly, lonely, and heartbroken girl in the 1980s who
transforms herself into "the fairest one of all" but still cannot win
Greg's heart, and Celine, Greg's daughter with Violet's high school rival,
Jennifer.
---
I would like to thank the publisher for providing me with an ARC of Mirrored for an honest review.
Mirrored is an amazing modern retelling of Snow White and The Evil Queen, known in this book as Celine and Violet. Alex gives so many layers in this story and you will feel for the characters and the questioning of those feelings. The twists had me pondering the message that the original fairy-tale sends and what Snow White was really concerned with. This book had so much to offer and had me thinking about it well after I was finished.
This is a bulling story in its truest sense. You see a young nerdy smart girl not fit in and want a friend. Violet doesn't want just any friend, she finds a boy who understands her and is picked on just like her. Through the summer, the boy Greg grows up, and out of his awkwardness. Soon Greg is dating the one popular girl who has made Violets life horrible. Jennifer has been horrible to Violet. Violet not only lost a friend but the one boy she liked. Jennifer seems to take everything from Violet. One day Violet is attacked by some boys and soon is saved by a stranger who teaches her that she has gifts. Violet soon starts to change herself to become the person she always wanted to be.
The problem is it never brings Violet what she really wants. Power makes you seek things you never thought you would, and become a person you don't recognize.
You then move to Celine's point of view. Celine is the daughter of Jennifer and is so sweet and just loves everyone. She is smart and doesn't like people judging her because of how she looks. In this book how both Violet and Celine have so much in common and have been through so much, yet choose to handle those situations so differently.
I love the fact that Celine aka the Snow White in this tale is so much more lovable, smart, and not shallow then the original tale we all know. I thought it was so wonderful how Alex Flinn made you empathize with each and every character even if you didn't always agree with their discussions. I bought a copy the moment it came out, and reading it many times. This will be a new classic in my home for me and my daughter. I am giving this 5 out of 5 stars.
---