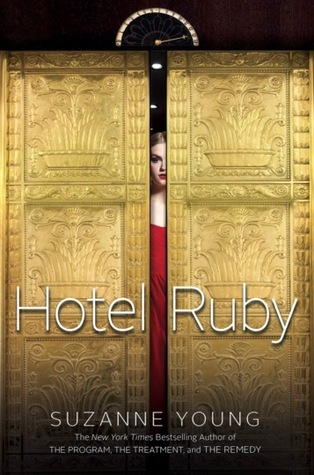 Hotel Ruby by Suzanne Young
Simon Pulse
Release Date: November 3, 2015
Purchase:  Amazon
Synopsis:
Stay Tonight. Stay Forever.
When Audrey Casella arrives for an unplanned stay at the grand Hotel Ruby, she's grateful for the detour. Just months after their mother's death, Audrey and her brother, Daniel, are on their way to live with their grandmother, dumped on the doorstep of a DNA-matched stranger because their father is drowning in his grief.
Audrey and her family only plan to stay the night, but life in the Ruby can be intoxicating, extending their stay as it provides endless distractions—including handsome guest Elias Lange, who sends Audrey's pulse racing. However, the hotel proves to be as strange as it is beautiful. Nightly fancy affairs in the ballroom are invitation only, and Audrey seems to be the one guest who doesn't have an invite. Instead, she joins the hotel staff on the rooftop, catching whispers about the hotel's dark past.
The more Audrey learns about the new people she's met, the more her curiosity grows. She's torn in different directions—the pull of her past with its overwhelming loss, the promise of a future that holds little joy, and an in-between life in a place that is so much more than it seems…
Welcome to the Ruby.
Review
I would like to thank the publisher for providing me with an advanced reader copy of Hotel Ruby for review.
Hotel Ruby was a beautifully written book with romance that I just gushed over. Elias was just so swoon worthy. The plot twist and turns towards the end of the book made up for the slow pace in the first half of the book. Suzanne really is an incredible writer I just don't really care for this genre as much as others, but if you enjoy this genre you will love Hotel Ruby!
Everyone in Audrey's family is struggling after the loss of her mother. Audrey's mother died suddenly and now everyone in the family is having a hard time with it. Audrey and her brother are being sent to stay with their grandmother. Since Audrey's mother died, her father just can't deal.
On the way they decide to stop and stay the night at the Hotel Ruby. Soon Audrey starts to notice that something strange is going on in this hotel. She meets Elias a gorgeous boy who is also a guest at the Ruby. Audrey starts to think about him and forget all about her suspicions and concerns, and think about staying at Hotel Ruby longer maybe is a good thing.
Will Audrey continue her search to find out the secrets of the Ruby? Will the hotel bring Audrey and her family closer together? What role does Elias play in the Ruby and does she have a future with him? You must read this book to find out!
I liked the premise of this story. I also loved the writing and how beautiful it was. For me the pace was just a little slow at times and this is not my favorite genre. I did also like that the twists towards the end of the book I did not see coming. I am giving this book 3 out of 5 stars.
About this author
Suzanne Young is the New York Times bestselling author of The Program, The Treatment, and several other novels. She currently lives in Tempe, Arizona where she teaches high school English and obsesses about books.