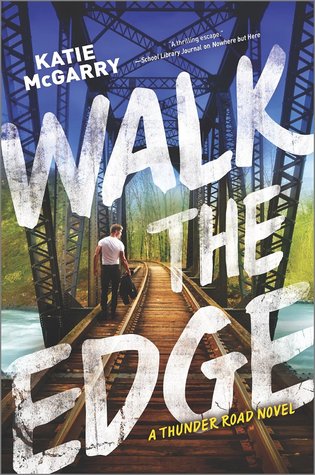 Walk the Edge by Katie McGarry
Thunder Road, #2
Harlequin Teen
Expected Release Date: March 29, 2016
Purchase:  Amazon / Barnes&Noble / Book Depository
Synopsis:
Razor knows his family is haunted by secrets of the past…
High school senior Thomas "Razor" Turner knows his family has a dark history as part of the Reign of Terror motorcycle club, especially when it comes to the secrecy surrounding his mother's death.
When Razor starts to dig deeper into his mum's case he turns to the unlikeliest source for help: classmate Breanna Miller, the shy, smart girl he's never looked twice at. But the more time they spend together, the more they realise they actually have in common, and how attracted to each other they really are.
When secrets from the past are revealed can their newfound feelings survive?
---
Book  #1
Nowhere But Here
 Throwback Review
Katie McGarry had me glued to Nowhere But Here all the way until I finished the last page. When it was over I didn't want it to end. I cried at certain parts, just from the pure beauty of the relationships and the human spirit. Oz really touched me as a character on so many levels and I hope everyone enjoys this book as much as I did. I am definitely giving this book 5 out of 5 stars, and can't wait for Razor's story.
---
---
About this author
KATIE MCGARRY was a teenager during the age of grunge and boy bands and remembers those years as the best and worst of her life. She is a lover of music, happy endings, and reality television, and is a secret University of Kentucky basketball fan.
Website / Newsletter / Twitter / Facebook