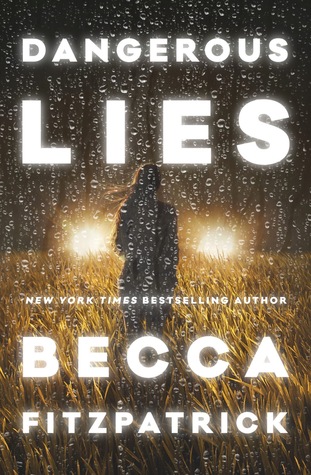 Dangerous Lies by Becca Fitzpatrick
Simon & Schuster Books for Young Readers
Release Date: November 10, 2015
5 out 5 Stars

Purchase:
Amazon / Barnes&Noble / Book Depository
Synopsis:
A teen is forced to make a fresh start after witnessing a violent crime—but love and danger find her anyway in this novel from Becca Fitzpatrick, the New York Times bestselling author of the Hush, Hush saga.
Stella Gordon is not her real name. Thunder Basin, Nebraska, is not her real home. This is not her real life.
After witnessing a lethal crime, Stella Gordon is sent to the middle of nowhere for her own safety before she testifies against the man she saw kill her mother's drug dealer.
But Stella was about to start her senior year with the boyfriend she loves. How can she be pulled away from the only life she knows and expected to start a new one in Nebraska? Stella chafes at her protection and is rude to everyone she meets. She's not planning on staying long, so why be friendly? Then she meets Chet Falconer and it becomes harder to keep her guard up, even as her guilt about having to lie to him grows.
As Stella starts to feel safer, the real threat to her life increases—because her enemies are actually closer than she thinks…
Review
I would like to thank the publisher for providing me with an advanced reader copy of Dangerous Lies for review.
Becca really surprised me with Dangerous Lies, I was expecting a suspenseful intense read and I got so much more. This book while having elements of suspense and a mystery that it does uncover in the end, I did not feel that was the focal point of the book. Dangerous Lies is about choices that we make and how they effect us and others around us.
Stella witnessed this horrible crime and now she is put into The Witness Protection Program. Her mother is addicted to drugs, and was there when the crime was committed and so was her boyfriend Reed. Both Reed and Stella's mom are being placed in the program as well but not with her. She is having to start over and all alone. She feels that this is unfair and doesn't like anything about the town or the situation.
Stella is asked to live with Carmina a retired cop who doesn't let Stella do whatever she wants like she is used to. Stella is missing Reed and wonders if he feels the same, she longs to find a way to communicate with him. Putting the past life behind her and becoming this new person seems almost impossible. She keeps counting down the days till she turns 18 and can leave.
Stella soon meets Chet, a boy who drives her crazy and also distracts her from the loneliness she feels. Stella needs a friend and Chet seems like a great guy. She has to remind herself that she can't allow anything more to happen because she never wants to betray Reed.
Will Stella be able to put the past behind her and accept her future? Are the secrets Stella is keeping going to lead to consequences she cannot undo? Can you ever really truly know someone when their life has been a lie? You have to read this book to find out.
I absolutely loved this book by Becca Fitzpatrick. It was so different from what I expected but I loved the emotional journey from everyone that was in Stella's life. You see so many things unravel and see how time changes people and choices effect all around you. I am giving this book 5 out of 5 stars.
Teasers
About Becca:
Becca Fitzpatrick grew up reading Nancy Drew and Trixie Belden with a flashlight under the covers. She graduated college with a degree in health, which she promptly abandoned for storytelling. When not writing, she's most likely prowling sale racks for reject shoes, running, or watching crime dramas on TV. She is the author of the bestselling HUSH, HUSH Saga. Her new book BLACK ICE arrives in bookstores everywhere October 7, 2014.