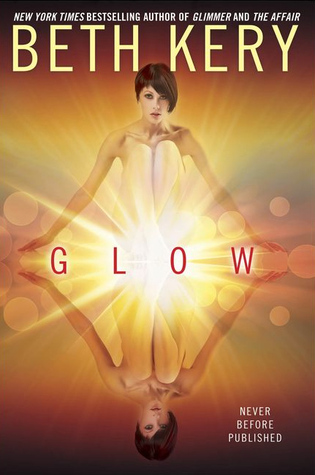 Glow by Beth Kery
Glimmer & Glow, #2
Berkley
Release Date: December 1, 2015
Rating: 5 out 5 Stars
Purchase:  Amazon / Barnes&Noble / Book Depository
Synopsis:
From the New York Times bestselling author of Glimmer,Because You Are Mine, When I'm With You, and The Affair, the latest novel in the suspenseful and sensual new series about power, sex, and the secrets that can tear us apart, body and soul…
Alice Reed never dreamed she'd escape the stigma of her disturbing past. That's why she was shocked when, out of the blue, she was recruited to join the elite Durand Enterprises by the enigmatic CEO himself, Dylan Fall. The erotic charge between them was fast and deliciously forbidden. But as Alice opened up to worlds she'd never known, everything changed once again with a stunning discovery: there's much, much more concealed in the shadows of Alice's troubling childhood, and her life is about to change forever.
Now, with another piece of the puzzle of Alice's identity revealed, a mysterious adversary plots to destroy it all—and Dylan is determined to protect her. But as Alice's sexual addiction to Dylan turns helplessly to love, she can't help but wonder: how deeply can she really trust him? What were his true motives in drawing her close to him? And what other secrets does he know about her past that even she has yet to learn?
Includes a teaser for Beth Kery's next novel
Review
I would like to thank the author for providing me with an advanced reader copy of Glow for an honest review.
Beth Kery is one of my favorite writers, when I read her books it is like a breath of fresh air. Glow was the perfect ending to this amazing series. In Glimmer I wasn't quite sure the direction it was going to take. With Glow I knew more of what to expect and was so happy with the direction it took. There was still a lot of twists and suspense.
Alice has been through so much. First she has struggled with a hard childhood and trying to make something of herself. Now, Alice has found out that the past she has endured was not the life she was meant to lead, but none of these memories seem real to her.
"You can't just start thinking of the world as round in a second when you've thought it was flat for your whole life."
This quote captured everything Alice was struggling with perfectly. She is being told that she is Addie but she doesn't know how to be that person and if she remembers it means dealing with emotions she may not be ready to face. Dylan tries to take things slow and not push her or reveal anything more before he feels she is ready to handle it.
The relationship that Alice builds in training the teens at the camp helps her learn so much about her own strengths. She forms a bond with Judith, the girl she picked to lead the group, who she butted heads with at first. Alice is able to help her, and Judith lets her.
"The right choice isn't always the obvious one."
Dylan soon has a hard time with Alice wanting distance and not following their arrangement. He already agreed to things he didn't feel comfortable with and he doesn't feel he can be pushed any further because if he loses her again he couldn't take it. So when Alice stays away and refuses to come to him like agreed. The tension builds.
"Don't you ever do that again. Defy me if it makes you feel more in control, Alice, but don't think I'm going to roll over if you deny me this."
Alice goes with him but has to admit why she stayed away, and that she is questioning their relationship. She doesn't know who to trust anymore, she has been lied to her whole life and is so confused. He is hurt but tries to understand and reassure her.
Things get even more complicated between Dylan and Alice, when Alice stands up for Thad. Alice lets Dylan know that Thad is loved by all, including her. Dylan is hurt and Alice leaves. Dylan, soon after some time passes and they can't stay away from each other confronts Alice.
"I'm not what you're making me out to be in your mind, Alice."
Who really did kidnap Alice and keep her from her family? Is Dylan involved or just after her money? Will Alice accept her past and is she really Addie? You have to read this amazing conclusion to find out!
Glow had mystery, heartbreak, passion, betrayals, and healing. It was everything I wanted it to be. I finished it and was thinking I can't say goodbye, I want more, even though it was amazing! I can't wait for Beth Kery's next book! I am giving this book 5 out of 5 stars.
About Beth:
Beth Kery is the New York Times and USA Today best selling author of over thirty novels, novellas and serials. She writes contemporary romances as well as erotic contemporary romances, her hallmarks being emotional intensity, leap-off-the-page realistic characters and steamy sexual tension.