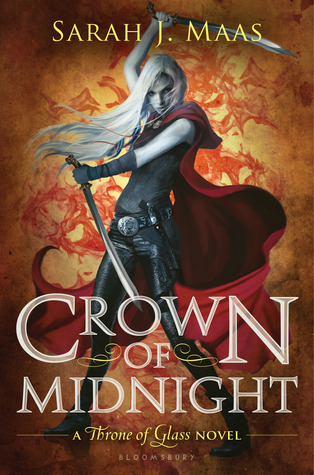 Crown of Midnight by  Sarah J. Maas
A Thrones of Glass, #2
Bloomsbury Childrens
Release Date: August 27, 2013
Buy:
Amazon | Barnes & Noble |
Synopsis:
"A line that should never be crossed is about to be breached.
It puts this entire castle in jeopardy—and the life of your friend."
From the throne of glass rules a king with a fist of iron and a soul as black as pitch. Assassin Celaena Sardothien won a brutal contest to become his Champion. Yet Celaena is far from loyal to the crown. She hides her secret vigilantly; she knows that the man she serves is bent on evil.
Keeping up the deadly charade becomes increasingly difficult when Celaena realizes she is not the only one seeking justice. As she tries to untangle the mysteries buried deep within the glass castle, her closest relationships suffer. It seems no one is above questioning her allegiances—not the Crown Prince Dorian; not Chaol, the Captain of the Guard; not even her best friend, Nehemia, a foreign princess with a rebel heart.
Then one terrible night, the secrets they have all been keeping lead to an unspeakable tragedy. As Celaena's world shatters, she will be forced to give up the very thing most precious to her and decide once and for all where her true loyalties lie… and whom she is ultimately willing to fight for.
REVIEW
I ABSOLUTELY LOVED THIS BOOK SO MUCH!!! Sarah can do no wrong, each book gets better and each time you read them. Sarah's books build with more and more layers that make you ache for more. The relationships grow and each one Celaena encounters helps her as a person figure out who she needs to be, or is on instinct and survival. You never really feel angry with what she has to do to survive even if at times you are saddened by it.
Choal reminds her of Sam in a lot of ways and she doesn't want to make the same mistakes and have any regrets. There relationship grows after leaning on one another and training together. Sharing their fears and making themselves more vulnerable they build something beautiful.
"You remind me of how the world ought to be. What the world can be."
There is just one huge problem that stands in the way of their love, their secrets and where their loyalties will be.
Celaena's friendship with Nehemia is such a comforting force for her. She feels like she can go to her and that she will help her understand things that are happening with the new discoveries she is making. Celaena knows that she can talk about how she feels about the men in her life, that her friend will give her advise and be there for her.
Celaena at one point doesn't want to hear what Nehemia has to say to her, but those words will be the ones that will haunt Celaena and effect her choices.
"You are a coward. You are nothing more than a coward."
The plots and twists are so incredible. Will Choal or Dorian betray Celaena? Can Celaena find out how the king gained his power and still remained unscathed? You have to read to find out!
I swear I could read this book over and over again and never tire of it! I would definitely give this book 5 out of 5 stars and say you have to read the whole series!!!
About the author:
Sarah J. Maas is the New York Times and USA Today bestselling author of the Throne of Glass series (Queen of Shadows, Book 4, will be out in September 2015), as well as the A Court of Thorns and Roses series (out 5/5/15).
Sarah lives in Bucks County, PA, and over the years, she has developed an unhealthy appreciation for Disney movies and bad pop music. She adores fairy tales and ballet, drinks too much tea, and watches an ungodly amount of TV. When she's not busy writing, she can be found exploring the historic and beautiful Pennsylvania countryside with her husband and canine companion.
Follow or Contact:
Website | Goodreads | Newsletter | Twitter | Facebook | Tumblr | Pinterest