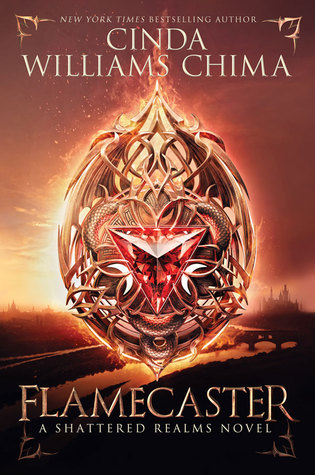 Flamecaster  by  Cinda Williams Chima
Shattered Realms, #1
HarperTeen
Release Date: April 5, 2016
Buy:
Amazon | Barnes & Noble | Book Depository
Synopsis:
The first in a thrilling new four-book fantasy series from New York Times bestselling author Cinda Williams Chima, set in the same world as her beloved Seven Realms series, a generation later
Adrian sul'Han, known as Ash, is a trained healer with a powerful gift of magic—and a thirst for revenge. Ash is forced into hiding after a series of murders throws the queendom into chaos. Now Ash is closer than he's ever been to killing the man responsible, the cruel king of Arden. As a healer, can Ash use his powers not to save a life but to take it?
Abandoned at birth, Jenna Bandelow was told that the mysterious magemark on the back of her neck would make her a target. But when the King's Guard launches a relentless search for a girl with a mark like hers, Jenna assumes that it has more to do with her role as a saboteur than any birth-based curse. Though Jenna doesn't know why she's being hunted, she knows that she can't get caught.
Eventually, Ash's and Jenna's paths will collide in Arden. Thrown together by chance and joined by their hatred of the king, they will come to rescue each other in ways they cannot yet imagine.
Set in the world of the acclaimed Seven Realms series a generation later, this is a thrilling story of dark magic, chilling threats, and two unforgettable characters walking a knife-sharp line between life and death.
About the author:
New York Times bestselling author Cinda Williams Chima comes from a long line of fortune-tellers, musicians and spinners of tales. She began writing romance novels in middle school, which were often confiscated by her teachers.
The Warrior Heir was named to Voya's Best Science Fiction and Fantasy 2005-2006, is a 2006 Booksense Summer Reading Pick, was named to the 2007-2008 Lone Star Reading List, and was a finalist for the 2006 Great Lakes Book Award. Warrior Heir received a starred review in the Bulletin of the Center for Children's Books and a "Perfect Ten" (5Q, 5P) in Voya. The Wizard Heir also received a "Perfect Ten" from Voya and appears on Voya's Best Science Fiction and Fantasy 2007. The Dragon Heir received a starred review in Kirkus, was named to Kirkus's Best YA 2008 list, was a VOYA Perfect Ten, and is a USA Today, Indie Next, and NYT bestseller.
Chima's Seven Realms series launched with The Demon King in October, 2009.It received a starred review in the Bulletin of the Center for Children's Books, was a Voya Perfect Ten and was named to the 2009 Voya Best Science Fiction, Fantasy, and Horror List. The Exiled Queen followed in September, 2010. It received a starred review from Kirkus, was a Voya Perfect Ten, and a New York Times bestseller. The Gray Wolf Throne follows in September, 2011.
Chima is a graduate of Case Western Reserve University and the University of Akron. Chima is an active member of the Society for Children's Book Writers and Illustrators and the Science Fiction and Fantasy Writers of America. She has been a workshop leader, panelist, and speaker at writing conferences, including the Northern Ohio SCBWI Conference, the Western Reserve Writers' Conference, and the World Fantasy Convention. She frequently speaks to young writers and readers at schools and libraries nationwide.
Follow or Contact: