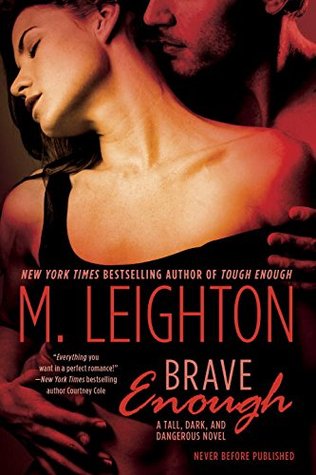 Brave Enough by M. Leighton
Tall, Dark, and Dangerous, #3
Berkley
Release Date: April 5, 2016
Buy:
Amazon | Barnes & Noble | Book Depository
Synopsis:
From the author of the New York Times bestselling Bad Boys novels comes another dark, sexy story…
 
Is she brave enough to give her heart to a man she only thought she knew?
He was the most charismatic man I'd ever met. Strong, tough, brave. Bold as hell. Something told me Tag Barton could have anything—anyone—he wanted…and he wanted me. It didn't matter that he was wrong for me in practically every way possible. It didn't matter that my father would hate it.
I couldn't resist him. Even if I'd known who he really was and what he was really capable of.
When he suggested we pretend to be engaged, I thought he was the answer to all my problems. He wasn't. And, in his wake, he left nothing but scorched earth and me, just another casualty of my father's war.
Can I believe him now when he tells me he loves me?  Or is he nothing more than a beautiful, breathtaking lie?
About the author:
New York Times and USA Today Bestselling Author, M. Leighton, is a native of Ohio. She relocated to the warmer climates of the South, where she can be near the water all summer and miss the snow all winter. Possessed of an overactive imagination from early in her childhood, Michelle finally found an acceptable outlet for her fantastical visions: literary fiction. Having written over a dozen novels, these days Michelle enjoys letting her mind wander to more romantic settings with sexy Southern guys, much like the one she married and the ones you'll find in her latest books. When her thoughts aren't roaming in that direction, she'll be riding wild horses, skiing the slopes of Aspen or scuba diving with a hot rock star, all without leaving the cozy comfort of her office.
About Michelle: I love coffee and chocolate, even more so when they are combined. I'm convinced that one day they could be the basis for world peace. I also love the color red and am seriously considering dying my hair.
Follow or Contact: