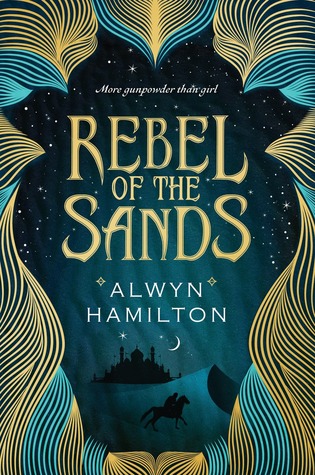 Rebel of the Sands by Alwyn Hamilton
Rebel of the Sands, #1
Viking Children's Books
(An Imprint of Penguin Young Readers Group)
Release Date: March 8, 2016
Synopsis:
In a world where metal and magic clash with deadly consequences, Amani finds herself becoming a myth in the making, legendary for her sharp-shooting skills, more gunpowder than girl. So, inspired by Amani's legendary skills and growing reputation, I would like you to come up with your own blogger reputation post, highlighting skills, behaviors, designs, or habits that you would be famous for in the blogosphere. Are you "Known for Excessive Bookshelf Disarray," "Legendary for Having too Many Foreign Editions of Books," or "Famous for DNFing?" As usual, here is my example: I would be "Hunted for being Heartless" with my books—I dog ear pages, I spill water on them, I pile other things on top of them. I totally abuse my books, and they look terrible once I'm done with them! My publishing colleagues always scold me, but it's the way I am!
Pre-Order:
I am so excited to read this book and I love the idea of a girl learning to be strong through the circumstances she finds herself in. I love a great fantasy especially with incredible world building. This world sounds amazing so I have included a picture board of how I envision the world from what I have read of the synopsis and heard of the book so far.
Giveaway
US only
January 18 – March 4
5 winners will receive: hardcover of REBEL OF THE SANDS, PenguinTeen tote bag, and a Shimmering Hourglass