The Impostor Queen by Sarah Fine
The Impostor Queen, #1
Margaret K. McElderry Books
(An imprint of Simon & Schuster Children's Publishing Division)
Release Date: January 5, 2016
Rating: 5 out of 5 Stars
Buy Links:
Amazon | Barnes & Noble | Book Depository
Synopsis:
Sixteen-year-old Elli was a small child when the Elders of Kupari chose her to succeed the Valtia, the queen who wields infinitely powerful ice and fire magic. Since then, Elli has lived in the temple, surrounded by luxury and tutored by magical priests, as she prepares for the day when the Valtia perishes and the magic finds a new home in her. Elli is destined to be the most powerful Valtia to ever rule.
But when the queen dies defending the kingdom from invading warriors, the magic doesn't enter Elli. It's nowhere to be found.
Disgraced, Elli flees to the outlands, the home of banished criminals—some who would love to see the temple burn with all its priests inside. As she finds her footing in this new world, Elli uncovers devastating new information about the Kupari magic, those who wield it, and the prophecy that foretold her destiny. Torn between the love she has for her people and her growing loyalty to the banished, Elli struggles to understand the true role she was meant to play. But as war looms, she must align with the right side—before the kingdom and its magic are completely destroyed.
Review
I would like to thank the publisher for providing me with an advanced reviewer copy of The Impostor Queen for an honest review.
The Impostor Queen is intriguing, unique, and just spectacular! I have not read this good of a fantasy book in awhile and had been waiting for this. I hope this is a trend to come. The characters were all very different and worked so well off of each other. I loved that just when I thought I had figured out where the story was going it would go somewhere completely unexpected. This was such a pleasant surprise.
Elli is to be the next Valtia. This is the Queen and she is the vessel that holds and balances magic to help the people. She can wield both fire and ice magic and is the most powerful of wielders. This magic is wearing on them and it comes with a price.
Soon Elli's time comes and the magic enters her but she cannot seem to wield it. She feels everyone has abandoned her.  She soon is forced to flee the city out of fear for her life. There is a prophecy that foretold her as the most powerful Queen but now she just feels like a failure.
Elli is helped in the woods by a man named Oskar. Oskar takes her to a healer since she has injuries and he worries she may not survive. The healer Raimo tells Elli things about her destiny and the prophecy. It leads Elli to more questions and more things she feels uncertain of. The one thing Elli knows is she must grow strong and learn how to survive the winter without discovery.
Will Elli find out her role and how to protect herself before it is too late?  Can the world she was raised to trust be all wrong and the world she was raised to not be the one that will save her? You have to read this incredible fantasy book to find out!
This is the first book I have read by Sarah, and now I can't wait to read more. Her world building is incredible, she makes it so you can really see what is going on and you are not lost at all in what is going on. I am so glad that this is not a standalone and that there will be a second book, making it a duology.  I will be highly anticipating the next book. I would definitely recommend The Impostor Queen and will continue to read the series. I am giving it 5 out of 5 stars.
Book Inspired Board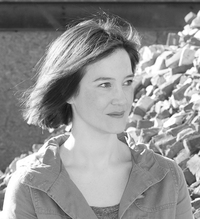 About this author
When I'm not writing, I'm psychologizing (really, I even get a paycheck for it). Sometimes I do both at the same time. The results are unpredictable.
To receive updates on new releases, sales, and bonus material, go to http://sarahfinebooks.com/ and click at the top of the page to sign up for the newsletter.
For extra information about the Guards of the Shadowlands series, including Malachi's personal journal entries, or to ask a question: http://guardsoftheshadowlands.tumblr….
For information about the inspirations for Of Metal and Wishes:http://www.pinterest.com/sarahfineboo…
Contact or Follow:
Website | Newsletter | Twitter | Goodreads | Facebook | Pinterest | Tumblr