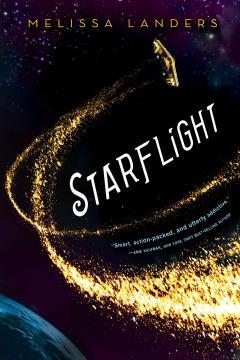 Starflight by Melissa Landers
Starflight, #1
Disney-Hyperion
Release Date: February 2, 2016
Rating: 4 Stars
Buy Links:
Amazon | Barnes & Noble | Book Depository
Synopsis:
Life in the outer realm is a lawless, dirty, hard existence, and Solara Brooks is hungry for it. Just out of the orphanage, she needs a fresh start in a place where nobody cares about the engine grease beneath her fingernails or the felony tattoos across her knuckles. She's so desperate to reach the realm that she's willing to indenture herself to Doran Spaulding, the rich and popular quarterback who made her life miserable all through high school, in exchange for passage aboard the spaceliner Zenith.
When a twist of fate lands them instead on the Banshee, a vessel of dubious repute, Doran learns he's been framed on Earth for conspiracy. As he pursues a set of mysterious coordinates rumored to hold the key to clearing his name, he and Solara must get past their enmity to work together and evade those out for their arrest. Life on the Banshee may be tumultuous, but as Solara and Doran are forced to question everything they once believed about their world—and each other—the ship becomes home, and the eccentric crew family. But what Solara and Doran discover on the mysterious Planet X has the power to not only alter their lives, but the existence of everyone in the universe…
Review
I would like to thank the publisher for providing me with an advance reviewer copy for an honest review.
Starflight was a great book with amazing humor, and banter that had me laughing and wanting to continue on this amazing adventure. You get adventure, mystery, romance, and so much more. This book had so many hidden surprises and honestly I was not expecting all the twists and turns it took. It has space pirates, I mean how awesome is that! You get royalty and slaves, there is definitely a hierarchy to the system.
Solara is running from her past and what she did. She knows she has to get away or her future will be nothing. She uses Doran for her escape.
Doran is wealthy and treats her horrible. Doran soon does not remember who he is and Solara takes advantage of that, uses him to escape and his money.
Everyone is running or escaping from something. What that is and who they can trust is the question they all wonder. Everyone has secrets. Can they ever trust each other? Will Doran find out who he is and what Solara has done? Can he forgive her and can they move on? You have to read this book to find out.
Starflight had so many amazing characters, I loved the whole crew. I tried not to do a spoiler review since so much happens in this book and so many of the twists lead to a new puzzle piece. Each character has a secret and all of it I know is leading to a bigger picture in the next book as well. I am excited to see where Melissa will take this space adventure next. I would definitely recommend it and I am giving it 4 out of 5 stars.
Favorite Quote:
"I lured you onto the ship," she said, "because I couldn't get enough of your scintillating personality."
About Author:
Melissa Landers is a former teacher who left the classroom to pursue other worlds. A proud sci-fi geek, she isn't afraid to wear her Princess Leia costume in public—just ask her husband and three kids. She lives outside Cincinnati in the small town of Loveland, "Sweetheart of Ohio." For more information or just to say hello, visit http://www.melissa-landers.com.
Contact or Follow:
Website | Goodreads | Newsletter | Twitter | Facebook | Instagram