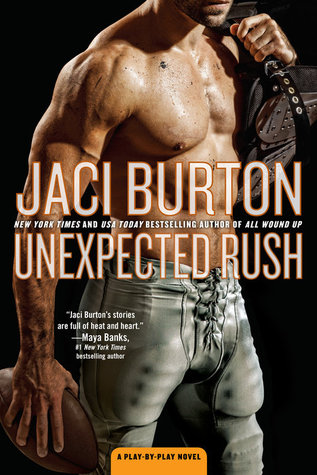 Unexpected Rush by Jaci Burton 
Play by Play, #11
Berkley
Release Date: February 16, 2016
Rating: 3.5 Stars
Buy Links:
Amazon | B&N | Book Depository
Synopsis:
In the new Play-By-Play novel by the New York Timesbestselling author of All Wound Up, a football hot shot and his best friend's sister are breaking all the rules.
All the Right Moves
For Barrett Cassidy, playing defense for the Tampa Hawks is a dream come true. And now he may have discovered his dream woman. Harmony Evans, once the sweet, gawky teenage sister of his best friend and teammate has grown into a smart, gorgeous woman with moves he finds hard to resist. But he knows he can't get involved with his best friend's sister—it's guy code.
Harmony has always gone after what she wants with single-minded determination, from her independence to her education to her career in social work. She never expected her youthful crush on Barrett to develop into something deeper. And she's not about to let some ridiculous man rules or her brother stand in her way.
When the chemistry is this combustible, lines tend to get crossed. And when Barrett and Harmony's secret gets out, it just might be game over…
Review
I would like to thank the publisher for providing me with an advance copy for an honest review.
Unexpected Rush is a hot fast paced read. Jaci has a way of making a couple have combustible chemistry. This book was fun, sexy, and sweet. I loved that Harmony knew what she wanted in a man and she is also confident enough in herself to say what she likes. Barrett is strong, sexy and oh so not like most of the men Harmony has dated. He wants to meet the challenges Harmony throws down but is also scared to at the same time.
Harmony has just broken up with her boyfriend of three months. She knew it wasn't meant to be but it still hurts how it ended. She soon decides that she wants to pursue Barrett, her brothers best-friend/teammate, and her long-time crush. She knows he would be, perfect for her and is exactly what she has been missing in her past relationships. There is just one problem, he is not on board.
When Harmony asks Barrett out on a date it is like a dream and a nightmare for him. He knows how her brother would react since he is so protective and it is code, you just don't go after your friends baby sister. He also worries about the fact that they are teammates and how this would effect their game. He tells her they can't and says she knows why. She is mad but he can't worry about that.
Harmony is determined to get Barrett to see how great they could be together. When a perfect opportunity arises for her to help renovate his new home she knows he will be forced to spend plenty of time with her. Soon he just can't resist but he still doesn't want her brother to know.
Can Harmony deal with being Barrett's secret? Will Harmony's brother find out? Can Barrett be the better man Harmony needs? You have to read Unexpected Rush to find out.
I really liked this story and couple. I will say I was hoping there would be more sports in the story-line, considering the cover and series title but there was more of of her job then his. I felt that football definitely played a background part in the book. Unexpected Rush was a great romantic read with a great couple and I can't wait to read more in the series. I am giving this book 3.5 out of 5 stars.
Teaser
About Author:
Jaci Burton is a New York Times and USA Today bestselling, award-winning author of over 50 books. She lives in Oklahoma and when she isn't on deadline (which is often), she can usually be found wrestling with her uncooperative garden, wrangling her dogs, watching an unhealthy amount of television, or completely losing track of time reading a great book. She's a total romantic and longs for the happily ever after in every story, which you'll find in all her books.. Visit her website at www.jaciburton.com for excerpts, her blog and contest information.
Contact or Follow:
Website | Goodreads | Twitter | Facebook | Instagram | Tumblr
GIVEAWAY
One set of print editions of Jaci Burton's Play by Play series!
Books 1 through 11 to one lucky winner
open internationally!