I am so excited to be a part of The Skylighter Blog Tour! Make sure to check out my review and enter the Giveaway at the bottom. 5 winners will receive autographed SETS of STORYSPINNER and SKYLIGHTER with swag.
About the Book
Title: THE SKYLIGHTER
Author: Becky Wallace
Release Date: March 22, 2016
Pages: 432
Publisher: Margaret K. McElderry Books
Formats: Hardcover, eBook, audiobook
Rating: 5 Stars
Find it: Goodreads | Amazon | Barnes & Noble | iBooks
Synopsis: 
Johanna and Rafi are in a race against time to save their country before a power-mad Keeper destroys everything they hold dear in the "enthralling magical world" (Cinda Williams Chima, author of The Heir Chronicles) introduced in The Storyspinner.

As the last of the royal line, Johanna is the only person who can heal a magical breach in the wall that separates her kingdom of Santarem from the land of the Keepers, legendary men and women who wield elemental magic. The barrier protects Santarem from those Keepers who might try to take power over mere humans…Keepers who are determined to stop Johanna and seize the wall's power for themselves.

And they're not the only ones. As the duchys of Santarem descend into war over the throne, Johanna relies more than ever on the advice of her handsome companion, Lord Rafael DeSilva. But Rafi is a duke too, and his people come first. As their friendship progresses into the beginnings of a tender relationship, Johanna must wonder: is Rafi looking out for her happiness, or does he want the throne for himself?

With war on the horizon, Johanna and Rafi dodge treacherous dukes and Keeper assassins as they race to through the countryside, determined to strengthen the wall before it's too late…even if it means sacrificing their happiness for the sake of their world. 
Review
I would like to thank the publisher for providing me with an advance copy for an honest review.
I love this series and this is the final book so I am going to do this review as spoiler free as possible. I do not want to ruin either books as I loved them both so much!
The Skylighter is fantastic, with fantasy, romance, and magic !!! I usually hate books with too many POV's but Becky did such an amazing job making them essential and each of the chapter flow so that are dying for the next. All the POV's are so important and really made for great world building and a complete picture. This book picks up right where the Storyspinner leaves off, and I would not recommend reading this book without reading the first as you will miss so much of the story. Some is recapped but not much, really need to read Storyspinner. This is an amazing conclusion to a fantastic series.
Johanna is just learned who she is, and now she has tough decisions to make. With war brewing and everyone wanting to seek power, who can Johanna trust? Rafi has been betrothed to the lost princess since they were kids but will she think that he doesn't really love her and that is just for political gain? Can they strengthen the wall before it is too late? Has Johanna already sacrificed too much? You have to read this epic conclusion to find out.
I love the growth of the characters throughout the story. This was a book that I couldn't put down and I flew through. I have not found a book like this in awhile and I will seriously treasure this series. The relationships are fantastic, and the characters just bounced off of each other so great. Skylighter had vivid world building, great swoon worthy moments and even more magic then Storyspinner. I felt the series had a very satisfying conclusion and now I can't wait to see what Becky will do next. I am giving this book 5 out of 5 stars and would definitely recommend it.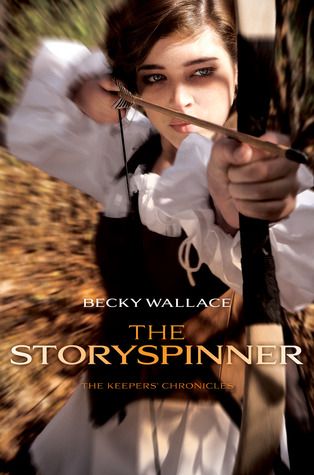 About the Book (Book 1 info is optional)
Title: THE STORYSPINNER
Author: Becky Wallace
Release Date: March 3, 2015
Pages: 432
Publisher: Margaret K. McElderry Books
Formats: Hardcover, Paperback, eBook, audiobook
Find it: Goodreads | Amazon | Barnes & Noble | iBooks
Synopsis:
Drama and danger abound in this fantasy realm where dukes play a game for the throne, magical warriors race to find the missing heir, and romance blossoms where it is least expected.

In a world where dukes plot their way to the throne, a Performer's life can get tricky. And in Johanna Von Arlo's case, it can be fatal. Expelled from her troupe after her father's death, Johanna is forced to work for the handsome Lord Rafael DeSilva. Too bad they don't get along. But while Johanna's father's death was deemed an accident, the Keepers aren't so sure.

The Keepers, a race of people with magical abilities, are on a quest to find the princess—the same princess who is supposed to be dead and whose throne the dukes are fighting over. But they aren't the only ones looking for her. And in the wake of their search, murdered girls keep turning up—girls who look exactly like the princess, and exactly like Johanna.

With dukes, Keepers, and a killer all after the princess, Johanna finds herself caught up in political machinations for the throne, threats on her life, and an unexpected romance that could change everything.
About Becky:
In second grade, Becky Wallace had to sit in the corner because she refused to write anything besides princess stories and fairy tales (and because she talked too much). Her time in isolation gave her plenty of opportunities to dream up the fantasy worlds she's been dabbling with ever since. She was lucky enough to find her own, real-life prince charming. They have four munchkins and live in a happy little town outside Houston, Texas.
Website | Twitter | Facebook | Pinterest | Goodreads
Giveaway Details:
5 winners will receive autographed SETS of STORYSPINNER and SKYLIGHTER with swag  US Only.
10 will receive swag sets
US Only.
Tour Schedule:
Week One:
3/14/2016- Once Upon A Twilight– Interview
3/15/2016- Jessabella Reads– Review
3/16/2016- Owl Always Be Reading– Excerpt
3/17/2016- Take Me Away To A Great Read– Review
3/18/2016- a GREAT read– Interview
Week Two:
3/21/2016- Mundie Moms– Review
3/22/2016- Supernatural Snark– Guest Post
3/23/2016- Wishful Endings– Review
3/24/2016- Two Chicks on Books– Interview
3/25/2016- Seeing Double In Neverland– Review