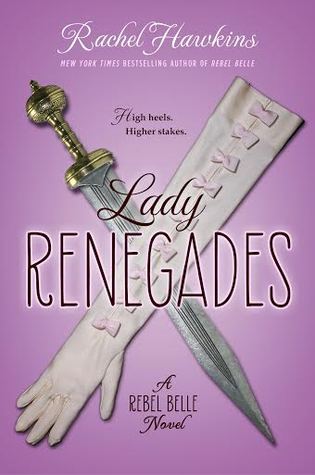 Lady Renegades by Rachel Hawkins 
Rebel Belle, #3
G.P. Putnam's Sons Books for Young Readers
Release Date: April 5, 2016
Pre-Order Links:
BAM | Amazon | B&N |Kobo | Book Depository
About Lady Renegades
Just as Harper Price started coming to terms with her role as David Stark's battle-ready Paladin – and girlfriend – her world goes crazy all over again. Overwhelmed by his Oracle powers, David flees Pine Grove and starts turning teenaged girls into Paladins . . . and these young ladies seem to think that Harper is the enemy David needs to be protected from. Ordinarily, Harper would be able to fight off any Paladin who came her way, but her powers have been dwindling since David left town, which means her life is on the line yet again.
Praise for Rebel Belle and Miss Mayhem:
"Harper is as quippy as you please, with a sass born of a sharp intellect….as surprising as it is delicious."
– Bulletin of the Center for Children's Books, STARRED REVIEW
"If Buffy the Vampire Slayer were Southern instead of SoCal, raised on good manners, Cotillion and sweet tea–she would be Harper Price." – Justine
"Hawkins strikes a pleasing balance between humor and drama, giving the 'chosen one' narrative a welcome dusting of irony and a glowing Southern setting." – Publishers Weekly
"This series–about an Alabama belle who is suddenly gifted with supernatural powers–has everything you could want from the genre and more: heart, smarts, scares, swoons and best of all, LAUGHS." – Kirkus Reviews
About Author:
Rachel Hawkins is the author of Rebel Belle and the New York Times bestselling series Hex Hall. Born in Virginia and raised in Alabama, Rachel taught high school English for three years before becoming a full-time writer.
Contact or Follow:
Tumblr | Twitter | Website | Goodreads
GIVEAWAY
Rebel Belle, Miss Mayhem, and Lady Renegades – the Complete series!
Penguin Teen Tote bag