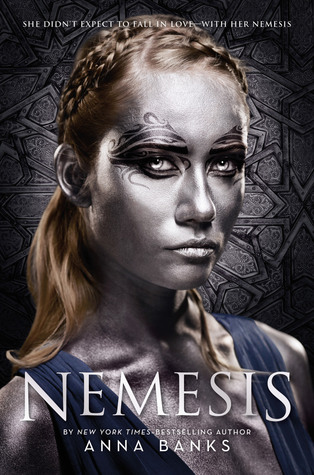 Nemesis by Anna Banks
Feiwel & Friends
Release Date: October 4, 2016
Buy Links:
Amazon | B&N | Book Depository | Indie Bound
Synopsis:
The princess didn't expect to fall in love–with her nemesis.
Princess Sepora of Serubel is the last Forger in all the five kingdoms. The spectorium she creates provides energy for all, but now her father has found a way to weaponize it, and his intentions to incite war force her to flee from his grasp. She escapes across enemy lines into the kingdom of Theoria, but her plans to hide are thwarted when she is captured and placed in the young king's servitude.
Tarik has just taken over rulership of Theoria, and must now face a new plague sweeping through his kingdom and killing his citizens. The last thing he needs is a troublesome servant vying for his attention. But mistress Sepora will not be ignored. When the two finally meet face-to-face, they form an unlikely bond that complicates life in ways neither of them could have imagined.
Sepora's gift could save Tarik's kingdom from the Quiet Plague. But should she trust her growing feelings for her nemesis, or should she hide her gifts at all costs?
About the author:
New York Times Bestselling author of The Syrena Legacy series.
Grew up in a town called Niceville. No, seriously. I graduated from Niceville High School. So did J Lo's second husband. And the guy that plays Aqua Man on Smallville dated my best friend.
Now I indulge my tendency to lie by writing the lies down and selling them to publishers. Well actually my agent sells it, so she's an accomplice to lies. One of my lies is called OF POSEIDON. The sequel is called OF TRITON. The last and final installment is OF NEPTUNE, and it released May 13, 2014. Be on the lookout for JOYRIDE, my YA Contemporary out June 2, 2015–Bonnie & Clyde meets Latina Pretty in Pink!
You'll also want to check out my newest release, HOW TO LOSE A BACHELOR coming from Entangled Publishing. It's How To Lose A Guy In Ten Days meets The Bachelor show!
And um. I also write adult fiction under pen name Anna Scarlett. One of the adult lies is DEGREES OF WRONG.