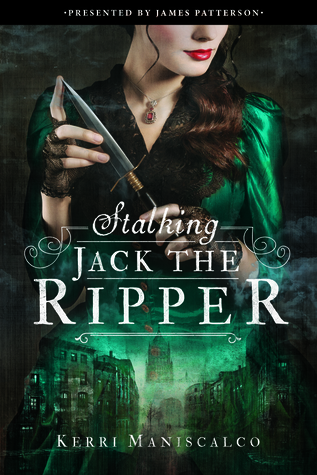 Stalking Jack the Ripper                            by Kerri Maniscalco
Jimmy Patterson
Release Date: September 20, 2016
Rating: 4 Stars
Pre-Order Links:
Amazon | B&N | Book Depository | IndieBound
Synopsis:
Presented by James Patterson's new children's imprint, this deliciously creepy horror novel has a storyline inspired by the Ripper murders and an unexpected, blood-chilling conclusion…
Seventeen-year-old Audrey Rose Wadsworth was born a lord's daughter, with a life of wealth and privilege stretched out before her. But between the social teas and silk dress fittings, she leads a forbidden secret life.
Against her stern father's wishes and society's expectations, Audrey often slips away to her uncle's laboratory to study the gruesome practice of forensic medicine. When her work on a string of savagely killed corpses drags Audrey into the investigation of a serial murderer, her search for answers brings her close to her own sheltered world.
The story's shocking twists and turns, augmented with real, sinister period photos, will make this dazzling debut from author Kerri Maniscalco impossible to forget.
Review
I would like to thank the publisher and BEA for providing me with an advance copy of Stalking Jack the Ripper for an honest review.
Stalking Jack the Ripper was full of gruesome, gore, and swoon worthy romance. This book took me by surprise, I had heard some buzz about it but it was so much better than I  anticipated. It was full of unexpected moments that kept me on my toes.
Audrey has had a morbid obsession ever since her mothers death. Her uncle has a lab in his basement and Audrey seems to be able to relate to him; she helps him cut up dead bodies. No one else in the family would understand.
Thomas shows up one night in the uncle's lab and then when she starts at a new school and he figures out her secret, tension between the two could be cut with a knife (no pun intended).
What secret is she hiding that Thomas will uncover? Will we find out who Jack the Ripper is? Can Thomas and Audrey get passed their differences? You have to read this fantastically creepy book to find out!
Stalking Jack the Ripper was  fast paced, and so intense that I just couldn't put it down. The pictures really added to the enjoyment in the reading of this book. I would definitely recommend this book and I am giving it 4 out of 5 stars.
About the author:
Kerri Maniscalco grew up in a small town just outside of New York City where her love of the arts was fostered from an early age. In her spare time she reads everything she can get her hands on, cooks all kinds of food for her family and friends, and drinks entirely too much tea while discussing life's finer points with her cats.  STALKING JACK THE RIPPER, her debut gothic horror, is coming September 20, 2016 from JIMMY Patterson Books/Little, Brown. It incorporates her love of forensic science and unsolved history.
For more information, visit Kerri online:
www.kerrimaniscalco.com