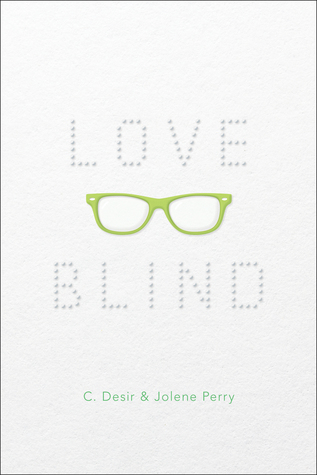 Love Blind
By Christa Desir & Jolene Perry
Simon Pulse
Release Date: May 10, 2016
Rating: 4.5 Stars
Pre-Order Links:
Amazon | B&N | Book Depository | IndieBound
Synopsis:
It starts with a list of fears. Stupid things really. Things that Hailey shouldn't worry about, wouldn't worry about if she didn't wake up every morning with the world a little more blurry. Unable to see her two moms clearly. Unable to read the music for her guitar. One step closer to losing the things she cares about the most.
For a while, the only thing that keeps Hailey moving forward is the feeling she gets when she crosses something off the list.
Then she meets Kyle. He mumbles—when he talks at all—and listens to music to drown out his thoughts. He's loaded down with fears, too. So Hailey talks him into making his own list.
Together, they stumble into an odd friendship, helping each other tackle one after another of their biggest fears. But fate and timing can change everything. And sometimes facing your worst fear makes you realize you had nothing to lose after all.
Review
I would like to thank the publisher for providing me with an advanced copy of Love Blind for an honest review.
Love Blind is charming, witty, heart-warming and so much more!!! The issues that this book dives into are so deep, it is sad that some will have to deal with issues this serious at such a young age but they will. It deals with bullying, loss of a physical ability and all that will entail, and a home life that is emotionally unstable. The two characters tried to help heal each other without pushing, through a fear list. They want to face their fears and help support each other through all that they know that the other one is going through. The problem is that at some point they are worrying about fixing and helping each other when they need to worry about their own issues.
Hailey is a cute, funky girl who is going blind. She wears different pairs of glasses to distract people from her eyes and the fact that she is constantly moving them to try to see and make things out. She is so scared that a time is going to come and she will live in a dark world where she will not have done or accomplished the things she wanted. She also fears the things she will never get to experience at all.
Her moms are hopeful that with medical advancements maybe she will not go blind. She hates them thinking or saying that, she thinks it is sending mixed messages since they haven't really prepared her for going blind as well as they could. She  wishes that she had gone to a blind school or had some classes.
Kyle is the quiet guy who would rather not be seen so he can avoid talking to people. He would rather not be noticed to avoid the consequences of someone noticing him and wanting to hurt him. Hailey comes into the music studio to perform. Hailey is the lead singer of a girl rock band. Kyle, thinks she is cool and really likes her voice, but he could never tell her that.
Hailey thinks Kyle is cute but wonders why he won't talk. She soon is intrigued by him and wants to bring him out of his shell. Hailey asks him to be her friend and to do her fear list with her. Kyle agrees, but they agree to share things as they start to get comfortable and as they go. Feelings start to grow on both sides but Kyle doesn't feel he is right for Hailey or good enough. Hailey has started seeing an older guy because Kyle has not said he is interested in her.
Will timing always be wrong for Hailey and Kyle? What happened to Kyle to make him stop talking? Will Hailey go blind? You have to read this emotional book to find out.
Love Blind is emotionally moving and will definitely have you thinking about what is important. I loved all the dynamics. I wished that there had been a longer epilogue or it had gone a little into the future. I would definitely recommend Love Blind and I am giving it 4.5 out of 5 stars.



About Authors:
Christa Desir
I'm a YA author who loves dark contemporary books. Novels include: FAULT LINE (Oct 2013), BLEED LIKE ME (Oct 2014), OTHER BROKEN THINGS (Jan 2016), and LOVE BLIND (May 2016).
I am also a feminist, rape victim activist, book seller, and romance novel editor. I live outside of Chicago with my husband and our three children.
Website  | Goodreads| Twitter | Facebook | Tumblr
Jolene Perry
I wear worn out Chucks, juvenile t-shirts, and eat too much chocolate. I love to go fast, I love french fries dipped in Frosties, and I love stories that keep me guessing. I write for Entangled, Albert Whitman Teen, and Simon Pulse.
Website | Goodreads | Twitter | Facebook | Instagram | Pinterest