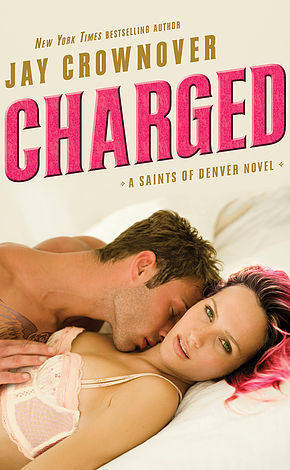 Charged by Jay Crownover
Saints of Denver, #2
William Morrow
Release Date: May 24, 2016
Rating: 5 Stars
Synopsis:
From the New York Times bestselling author of the Marked Men books comes the second installment in the Saints of Denver series featuring a bad girl and a by the book attorney who could be her salvation…or her ruin.
Avett Walker and Quaid Jackson's worlds have no reason to collide. Ever. Quaid is a high powered criminal attorney as slick as he is handsome. Avett is a pink-haired troublemaker with a bad attitude and a history of picking the wrong men.
When Avett lands in a sea of hot water because of one terrible mistake, the only person who can get her out of it is the insanely sexy lawyer. The last thing on earth she wants to do is rely on the no-nonsense attorney who thinks of her as nothing more than a nuisance. He literally has her fate in his hands. Yet there is something about him that makes her want to convince him to loosen his tie and have a little fun…with her.
Quaid never takes on clients like the impulsive young woman with a Technicolor dye job. She could stand to learn a hard lesson or two, but something about her guileless hazel eyes intrigues him. Still, he's determined to keep their relationship strictly business. But doing so is becoming more impossible with each day he spends with her.
As they work side-by-side, they'll have to figure out a way to get along and keep their hands off each other—because the chemistry between them is beyond charged.
BUY LINKS
Review
I would like to thank Nancy from Tales of the Ravenous Reader for sending me a copy of Charged and the publisher for making that possible, this was provided for an honest review.
Charged is Jay's best book to date, and that is saying a lot since I love the Point series. Don't miss out on this amazing gem!!! The chemistry and personality balance between the two is just dynamite. Jay's writing just gets better and better. I could feel the maturity in her writing with this novel. The emotions and how vulnerable each character is, was done in layers and subtly that lead me down such a great journey. The rotating POV between Avett and Quaid let me tap into that vulnerability that each of them had deep inside, I was so grateful for that.
Avett has gotten herself in some legal trouble and now needs Quaid's help to get her out of it. The only problem is that Avett doesn't like to be told how to act or what to do. Her pink hair and relaxed clothing are nothing like Quaid or the image he needs her to represent in front of the courts.
Quaid is always in expensive suits, keeps himself in control and likes his surroundings simple and expensive. He likes a certain type of woman too, one who isn't serious and who is gorgeous like the one he works with Sayer. The problem is he can't get that pink haired spit-fire out of his head and Sayer is with someone else.
Both Quaid and Avett know that they would be so wrong for each other but can't deny the attraction. Quaid is worried about the new threats to Avett. Avett is worried about protecting everyone else in her life but herself.
Will Avett push Quaid away to try to save him? Why does Avett feel she needs to punish herself and when will she stop? Why does Quaid want material things and not relationships? You have to read this book to find out!
Charged is a steamy, suspenseful, romantic novel that will leave you with such a book-hangover, saying when do I get Jay's next book!!! I am excited with some of the characters that were introduced in this book and their potential for the future in the series aka Wheeler. I can't wait to read more from Jay and this series. Heck yeah, I would recommend Charged and I am giving it 5 out of 5 stars.
About Jay Crownover:
Jay Crownover is the New York Times and USA Todaybestselling author of the Marked Men, The Point, and theSaints of Denverseries. Like her characters, she is a big fan of tattoos. She loves music and wishes she could be a rock star, but since she has no aptitude for singing or instrument playing, she'll settle for writing stories with interesting characters that make the reader feel something. She lives in Colorado with her three dogs.
Website ** Blog ** Facebook ** Twitter ** CHARGED Goodreads ** Jay Crownover Goodreads