Claimed by Elle Kennedy
(Outlaws #1)
Signet Eclipse
Release Date: October 6, 2015
Rate: 5 Stars
Synopsis:
The bestselling author of the Killer Instincts novels "knows how to write scorching sexual tension" (USA Today). Now she really sets it on fire in a new series about men and women living on the edge of violence, sex, and life and death.
After a devastating war decimated most of the world, Hudson Lane has only known the oppressive life under her own father's tyranny. She finally escapes, branding herself an outlaw and hunted by the Enforcers. Her best chance at survival is Connor Mackenzie, an aggressively sensual fugitive who opens her eyes to the wicked possibilities of a world without rules.
As the leader of a band of outlaw fighters, Connor can't resist the beautiful stranger who asks for his protection. Despite his reservations, he agrees to introduce her to a whole new way of life. But when Connor discovers Hudson's connection to the enemies of liberty, he wonders how far he can trust the woman who has abandoned all inhibitions to challenge every forbidden desire.
BUY LINKS
Print
e-copy
Review
I would like to thank the publisher for providing me with a copy of Claimed for an honest review.
I absolutely love Claimed, it is so HOT, HOT, HOT!!! The fact that it is something different then the contemporary romance that I am usually reading, made me so happy and devouring it. The dystopian world with its gritty edge and the characters with their live for today and take pleasure attitudes, was a great change in pace.
The three different groups set in this world and how it all was developed was phenomenal. The descriptive, details in the story really set you in the story and made it so you could really visualize it.
Hudson has escaped the city and is now in new territory. She is trying to blend in and not have anyone figure out who or what she really is. If they figure out out her identity they will kill her.
Connor has one mission, to kill the leader of the City and an Enforcer, Dominik. He agrees to help Hudson, but he suspects she is keeping secrets and is determined to figure out what they are.
What happened between Connor and Dominik? Will Connor find out who Hudson is? You have to read this amazing erotic dystopian to find out!
I has diving into this story and grasping to find out what happened between the two, and when secrets would be revealed. I have to say it all kept me on the edge and I was so not disappointed. I am really hoping for more later books on one of Hudson's family members and maybe a love interest for them even. Love them! This book is incredible and a definite 5 out of 5 steamy hot stars!!!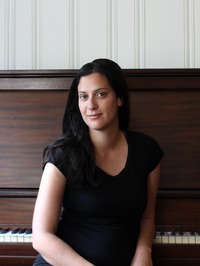 About Author:
A New York Times, USA Today and Wall Street Journal bestselling author, Elle Kennedy grew up in the suburbs of Toronto, Ontario, and holds a B.A. in English from York University. From an early age, she knew she wanted to be a writer, and actively began pursuing that dream when she was a teenager.
Elle currently writes for various publishers. She loves strong heroines and sexy alpha heroes, and just enough heat and danger to keep things interesting!